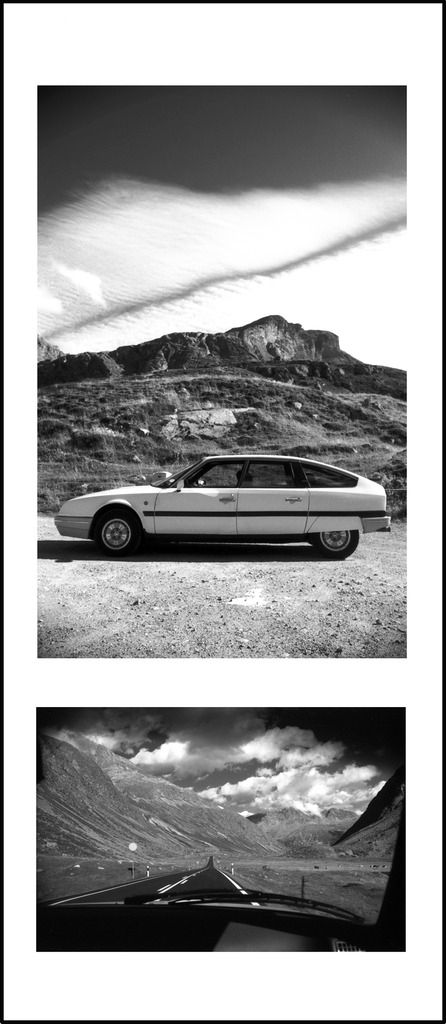 Citroen in the Swiss alps rollin, if I can't have speed, then it's a Citroen that I want. Sweet vintage ride, not my favorite year of this sweet Euro futuristic automobile... it would be the late 60's to early 1970's model, but please know: This was a dream to drive!
The visuals: Swiss alps road side, fat healthy cows made me think cheese and more cheese, Gruyere cheese, we stopped and ate cheese in St. Moritz, in the summer!
Another road adventure brings me to this site.... 1959 BMW 503 CS Coupe in Germany. This time I'm just a non-driving fan, I got rental. I think it was a Renault??? But this pretty blue machine was special. Swiss plates but in Germany, so ready for a road trip with that Big V8 and that pretty pearl steering wheel. They say Elvis had one.
57 Chevy Bel Air convertible or drop top. This was a prop for a album cover shoot I had in Miami, not my first pick, but it was my first for what they had in convertibles.
Perfect ride for a year around town when you want to be seen but in a classic way. Perfect for the band and big enough. Design work and detail in mid early century was again special in America as well, take note of the steering wheel matching the color of the car, each different. Dashboard color, side skirts over the rear wheels, very nice. The question is: Which do you like better, the 1955 or 1957 Bel Air? Big question in the Bel Air World.
When in Roma take pictures... first roll on the street
Hasselblad
ready.
Cadillac, Caddy. This car often appealed to the self-made man - if not the
nouveau
riche
hustle! This one is
sittin
' on blocks, weather beaten. Rust just under the surface. But still a Cadillac!
The Emblem: The 6-pointed crown represents the oldest known branches of French nobility. Each set of 3 birds, known as
merlettes
or martins, represents the Holy Trinity. The colored bands in the other sections each have a specific meaning--red represents boldness; silver, purity; and blue, valor.
In the late 1920s and 1930s, the emblem was placed in the center of a set of Art Deco wings. The Art Deco aesthetic was based on geometric designs and Egyptian-inspired motifs.
This Caddy image was my attempt at a mock up ad for Apple's
ipod
used in cars. Big Bold Cadillac grill and the comfort of
Caddilac's
interior with the the
ipod
not the 8track keep it
movin
' and keep hope live!
Again the Caddy, the player not playing! Cadillac left alone hard time. It made for a beautiful image. This was in The South, Georgia.
This image stood out to me just like the lonely Cadillac (last post) but wow, we're still using gas, we still drink
Pespi
. This station was just off a main road near Selma, Alabama, I loved it, makes for a great location shoot.
I like graphic things, and
im
learning to like history. Who's truck is this? What year is it? What did he do with it? What color was it?
LOL
no windows but the tires are perfect. Road trip through the South. Go see the South, the history, it's free!
I'm in the French part of Switzerland. Land of the perfect landscape.
Montreux
, the Jazz festival the lake, all that. Road trip headed to France. We pick the
Hotel Eden Palace
, nice spot on the lake (Lake Geneva) I check in all is good, but I leave my camera bag in the car, I convince
vally
to let me get my bags from the parking garage below the hotel. The valet was willing to get it, but I was like I can do it no problem. I get to the suite for the cars! Wow, clean clean clean. No tire marks, no oil stains, no gas smell. Fresh yellow painted pavement clean white lines to divide the space, air conditioning too! Beautiful for the valet guys eyes only. I was in the car suite until they came to get me. The brand color of the hotel is yellow. And of course the car, 1978 Mercedes 600 Pullman?
Somewhere in France at night very dark, side of the road diner coffee and a
Croque
Monsieur sandwich I see something that looks like a field of sunflowers. I cross the road, it is. 15-18 min timed exposure while we chill under the stars.
Miami Florida South Beach Ocean Drive!
Let's all pile in and drive in circles... Italy meets Los Angeles same thing but in little, little cars high on espresso. Great time and very cool people.
Five people got out of this car in Marina Di
Ragusa
, Sicily, of which I CANNOT find the name of... looks like the new Toyota IQ or Smart Car but vintage.
Toyota IQ
Smart Car
The world is growing up car
Citroen 2
VC
and/or Renault 2
VC
. The French love to fight, bicker,
quarrel
: "It's mine, no! It's mine, small but mine!"
It's
French regardless.
I had to shoot this, I'm American! This little 3 wheel car like motorcycle power blue color under beautiful light with the big American foot print Shell gas sign. These little 3 wheelers are all over Europe. Would be great for New York City. Little road trips up to Harlem.
Want one?
Get one
!
Nearing the end.
Back to Italy,
Catania
, Sicily. We could never sell this car with the same name her in America. The Fiat "Elegant". Never say never.
Fiat 500 very nice and popular.
The new Fiat 500, 2010
is coming to the US, get ready America, never say never...
Fiat 500 - or in Italian "Fiat
Cinque
Cento
" - The Hood version.
Taxi's can be a rip off everywhere, 6-7 blocks $15.00, why can't they say: "Hey tourist dude, it's only a few blocks, save your American dollars, I know you need them!"
Does taxi really mean Tax i in Italy?!